You know what's fun? Felt.
It's cheap, it's sturdy, it comes in pretty, pretty colors, the edges don't fray when you cut them, and since you're not fabricating the material, you can make stuff with it really fast.
I totally made that pirate eye patch in five minutes. To sum up: felt! It's awesome!
And now for something tangentially felt-related – does anyone remember this flannelboard? (Anyone?) I have a confession to make: the cardboard inside did not survive the move to Japan, and I tucked the flannel and animals away to 'eventually' re-mount.
I did it last night.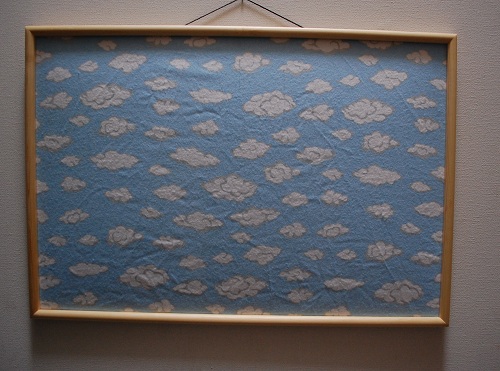 IÂ  found the largest puzzle-frame available at the Daiso (slightly larger than poster-sized) and wrapped and taped the flannel around it. It's a lot smaller than the original, but I was able to tuck the excess behind the frame back so that if I ever come up with a better way to make it larger the fabric is intact.
Despite (because of?) not having seen it in years, the kids were pleased.
I hung it in the hallway as part of my plan to get the kids to play back there more.
Looks like it might work, too! Now all I need is a way to organize the pieces.