I was poking around the internet the other day when I ran across this homemade necklace organizer. It looked neat, simple, useful . . . well within my carpentry and crafting skills…and I decided to give it a go.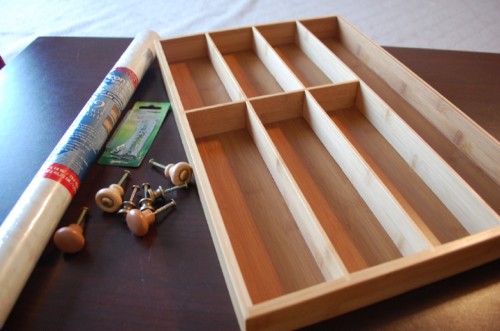 I assembled my materials: a nice bamboo silverware organizer, seven carefully assorted drawer pulls, a roll of contact paper, and a large picture hanger.
Step 1: Drill holes.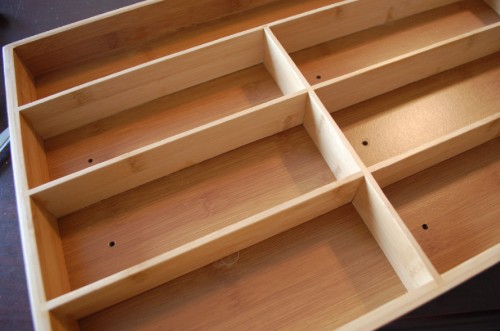 Step 2: Tentatively insert first strip of contact paper.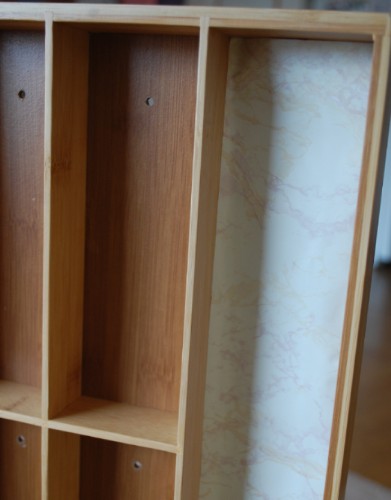 Step 3: Realize that the contact paper really looks like nothing more than contact paper, and that there's not any reason to cover the pretty, pretty bamboo backing.
Step 4: Ditch contact paper.
Step 5: Insert first drawer pull.
Step 6: Realize that the screws for the pulls are far, far too long to be useful in such a thin material.
Step 7: Begin grinding off the ends of screws with a gutless battery-operated Dremel that was not charged after last use. Be sure to hold the screws with your bare fingers and scrounge a pair of sunglasses for eye protection from the powdered shrapnel.
Step 8: Stop to briefly charge battery.
Step 9: Grind through the screw another fraction of an inch.
Steps 10-17: Repeat steps 8 and 9 alternately.
Step 18: Make it through the first screw.
Step 19: Plug battery back into charger and find something else to do.
Step 20: Wait three hours.
Step 21: With the power of electricity, rapidly grind through five more screws.
Step 22: Grind the final screw too short to be useful.
Step 23: Cry.
Step 24: Poke through the garage until you find the gallon ziplock of "assorted hardware" that you know is in there.
Step 25: Spend ten minutes trying to fit various screws into the pull.
Step 26: Find a suitable screw! Attach final pull to holder.
Step 27: Gently tap nails for picture hanger into back of necklace organizer.
Step 28: Split wood bamboo, whatever.
Step 29: Find and consume chocolate.
Step 30: Carefully clamp split back together with tape. Yes. Tape.
Step 31: With power drill and tiny bit, slowly predrill holes for nails.
Step 32: Successfully affix  hanger to back.
(Please notice it is now night.)
Step 33: Hammer nail into bedroom wall.
Step 34: Hang necklace holder and adorn with jewelry.
Step 35: Swear off any project involving power tools for at least six months.
…At least it looks nice with all the light wood in my bedroom.