After I put together the Calypso Necklace for Crochetvolution, I just didn't want to put my container of wooden beads away. I'd never really crocheted with beads before (much less big beads) and it's just so much fun! Plus wooden beads and hemp cord just about express how I'm feeling right now. If I make all of my projects summery, the sun will come out, right?
So I made a little bracelet to go along with the necklace.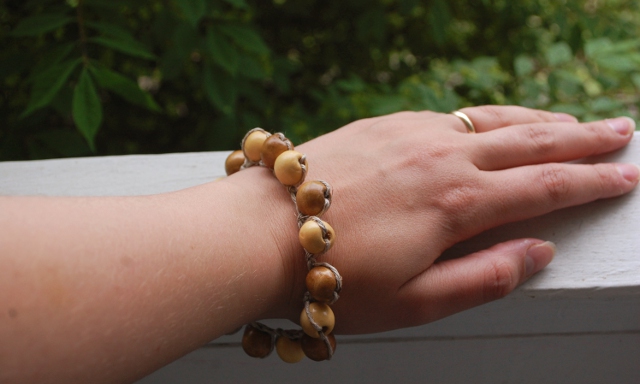 Sidenote: poses for wrists that are both useful and flattering are difficult to self-photograph.
You Will Need:
Approx. 3 yds 1mm hemp cord (fingering yarn or thicker crochet thread may be substituted)
C/2 (2.75mm size) hook
Approx. 16 beads, with holes large enough to fit over your crochet hook with a little room to spare. (I used 5/8″ round wooden beads with a 4mm hole.)
My bracelet has an approximate 8″ inner circumference.
Special Stitch: Add bead: Insert hook through bead; yarn over, pull through bead and loop on hook. Yarn over, pull through loop on hook. (This should attach the bead to your cord with one strand on each side of it.)

Directions:
Make sure your initial slipknot leaves you with a tail 4-6″ long.
*Chain 1, add bead. Repeat from * around until 16 beads total have been added OR until the length you have created will just barely slide over your hand when held in a circle. Ch 1 and finish off, leaving a tail of yarn 4-6 inches long.
Tie beginning and end together securely, placing the knot as close to the chains as possible. Trim ends of knot, enjoy!
Still not clear on how to add the beads?
(Sorry about the one-handed pics. Obviously I used two hands… I just removed my right to operate the camera.) I hope that gives you a better idea of how easy it is to crochet with beads and how much fun it can be to make things with it, fast!