School will be starting soon, so if you want to make any projects for the kids going back, now's the time to get started!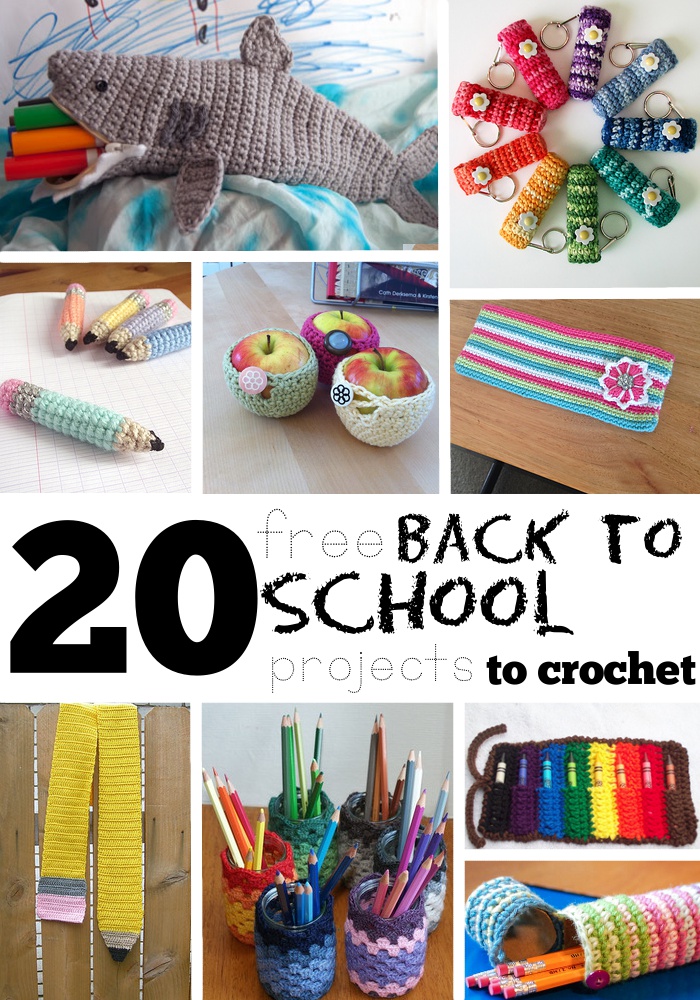 .
20 Free Back to School Projects to Crochet
1. The Moogly Crochet Alphabet by Tamara Kelly from Moogly is perfect for embellishing just about anything with names or alphabet letters.
2. Spike the Snake Amigurumi Pencil Topper by Adorable Amigurumi from Ravelry would be a great little friend to send back to school with your little one.
3. Roll-Up Pencil Case by Kim Kotary from Red Heart makes a portable way to organize those pens and pencils.
4. Crochet Pencil Scarf by Shelly Salinas from Ravelry would be a fun way to get excited to go back to school (as soon as those temperatures drop, that is!)
5. School Spirit Notebook Cover by Nancy Anderson from Crochet Uncut allows you to customize and protect those boring three-ring-binders and turns them into something special!
6. Shark Time Pouch by Tamara Kelly from Moogly is so cool it's ridiculous. Your child will rule the kindergarten! Or, you know, make one for yourself.
7. Amigurumi Apples by June Gilbank from Planet June are great for teacher gifts or decorations or even as a photo prop for back to school pictures.
8. Pencil Holder from Yarnspirations can double as a bookmark, or just keep your pencils and notebooks together.
9. Colored Granny Cover for Pencil Pots by Nicole Masson from Stefanina Knitting Design can really perk up a desk or homework area.
10. Skink Clutch by Cristy Rowley from Tossed Cookies is a stylish choice for a pen case.
11. Tiny Pencil Amigurumi by Anne-Caroline Alard from Petit Pixels may not write, but they sure are right for heading off to school with a smile! (Pun alert.)
12. Apple Jacket by Sara Sinagugulia from the Guardian Online can help your lunch make it to lunchtime without getting dinged and bruised. (Plus, it's cute!)
13. Harry Potter Bookmark by Jim Syl from Colorful Crochet is sure to delight the avid reader.
14. Crayon Keeper by Ginny Blankenship from Sunflowers at Home will help keep supplies organized for young artists.
15. Alligator Pencil Case from Yarnspirations is the perfect companion to the Shark Time Pouch (above). They will have the coolest pencils ever.
16. Stripey Pencil Case by Crochet Missy (from Crochet Missy) is another good choice for low-key pencil containment.
17. Book Thong by Donna Hulka from Crochet Me is a fast, elegant, and customizable way to keep your place.
18. Ultimate Universal Electronics Cozy by Tamara Kelly from Moogly is versatile, colorful, and simple. No matter what needs protecting, you can give this a try!
19. Chapstick Holder by Kristy Ashmore from Ravelry could go on a keyring or even the zipper pull of a backpack, so those pesky lip balms will never go missing again.
20. Crochet Case for Pencils by Kara from Petals to Picots is clevelr built around a cardboard tube