Who doesn't love crocheting baby dresses? They're fast, little, and cute and with all these free patterns, you can make a different dress for every baby girl on your list!
.
10 Free Dresses to Crochet for Babies
1. Little White Dress by SarahSweethearts from Ravelry is a sweet little dress sized for preemies and 0-3 month olds.
2. Angel Wings Pinafore by Maxine Gonser from Bev's Country Cottage is a simple and versatile dress sized for 0-3 months old.
3. I Heart My Dress from Yarnspirations is a sweet little sweater dress with patch pockets, sized for 6-18 months.
4. Granny Yoke Dress by Valerie Moffitt via Ravelry is a breath of fresh air in the world of baby dresses, with a yoke that is made of granny squares. Directions are available in two sizes, 9-12 months and 12-18 months.
5. Baby Pineapple Party Dress by Lisa van Klaveren from Ravelry has sizes available for 3-12 months. It has a buttoned back and a circle skirt!
6. A-Line Jumper and Hat from Yarnspirations includes applique flower details and is sized for ages 6-24 months.
7. Infant's Petticoat Dress by the Queenslander via Ravelry is a vintage pattern from 1888. As such, it's a good idea to read the notes before you get started. (But so cute!)
8. Easy Baby Sundress by Carol Garcia from Ravelry is simple and cute, and comes in four sizes ranging from preemie to 6 months old.
9. Newborn Frilly Flower Dress by Sophie Kilby from Encrafted is a quick little newborn's dress to make.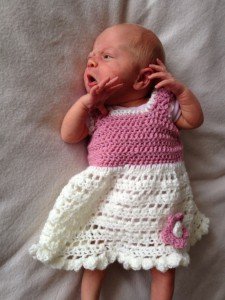 10. Sunshine and Marmalade by Melissa Mall from Crochetvolution is a sunny little jumper in three sizes from newborn to six months.