You know, as a crochet designer with four boys, I've really spent a lot of time looking at designs for boys – or the lack thereof. A good boys' design is hard to find, so I've done some of the digging for you! If you need a bag for a boy in your life, check out this list of ten free bags to crochet for boys!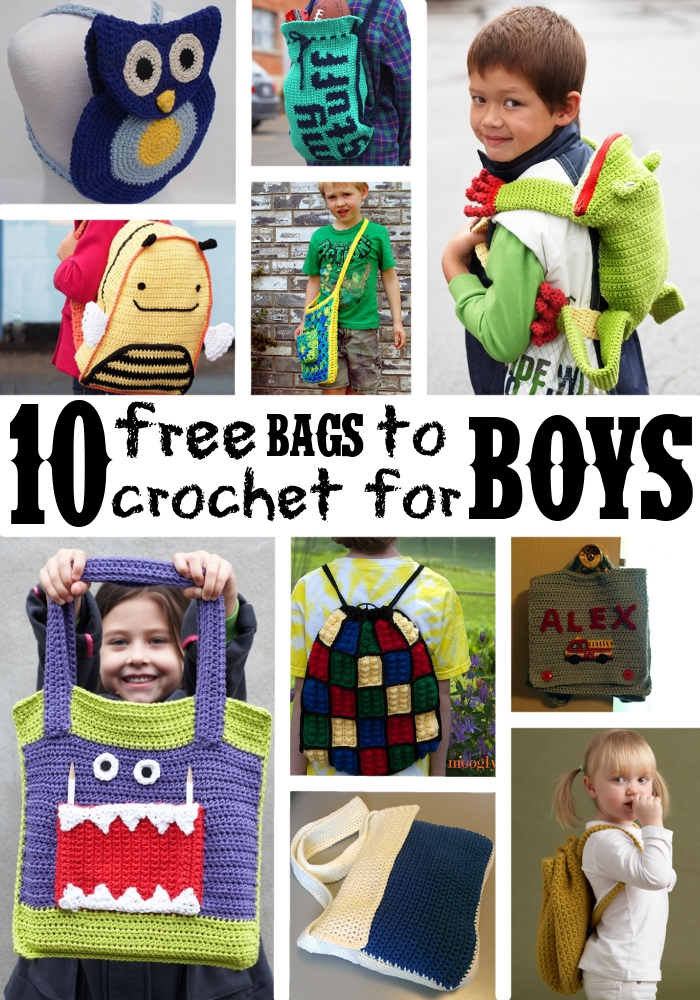 Free Bag Patterns to Crochet for Boys
1. Owl Backpack by Sylvie Sirugue on Inspirations Créatives (don't worry, it's available in English!) This cute little owl could really be done in any color combination, but it makes a fun choice for a little boy's bag.
2. 'My Stuff' Drawstring Bag from Yarnspirations is a roomy choice for the boy with a lot to carry.
3. Busy Bee Backpack from Yarnspirations is a traditional, zippered backpack complete with an inner pocket.
4. Coloring Book Tote by Melissa Mall via Crochetvolution 😉 is sized expressly for a couple of coloring books and a box of crayons.
5. Frog Backpack (also from Yarnspirations) would make a whimsical choice for an outdoor adventurer!
6. The 'Monster Ate My Homework' Tote from Yarnspirations is sure to be a favorite with those who love spooky and silly things together.
7. Lego Inspired Backpack by Tamara Kelly from Moogly has a drawstring top and great lego-brick texturing.
8. Toddler Sized Backpack by Rebecca Standridge from Ravelry is adjustable and easy to customize.
9. Messenger Bag by Aprile Mazey from The Steady Hand is a good sturdy staple that can be done in any colors you like!
10. Wee Backpack from Lion Brand is a quick and easy and sure to please.