Good morning, all! There has been a glorious, glorious change in the weather. It's been downright comfortable this week.
As a result we've spent a great deal of time out-of-doors. The twins are amazed, and think that the outside world has turned into some sort of magical wonderland – crying bitterly when dragged back inside for more than the time it takes to change a diaper and eat a sandwich. We haven't had our air conditioning on at all for days, and Greg and I are convinced that we've saved over $100 on our electric bill already. The fact that unseasonably high temperatures (yes, even unseasonably high for Arizona) are returning this week almost doesn't matter. We've had a reprieve.
I'm also ramping up preparations for the next issue of Crochetvolution. (Due out November 1st!) Don't forget there's still time to submit photos for the Crochet Showcase as well as get free advertising for your upcoming pattern release. If you sent me a submission email and I have not yet responded, look for a message this week as I morph into Editor Mode.
That's enough business, though. Check out these links!
First up, this Viking Costume from I am Momma, Hear Me Roar is downright inspiring. I'm making costumes for the boys this year – and I'm happy to do it, after last year. Charlie is going to be Shaggy (from Scooby Doo) and Max wants to be Thor. Hopefully we can make something as awesome as this.
Next: did you know Tommy and Teddy are turning two this month? True story. They aren't getting a big party like the older boys, but I we're still going to do SOMETHING fun.
Maybe it will involve monster cakes.
This Monster Cake (which they swear anyone can make) is from Modern Parents, Messy Kids. Monster cakes are another good idea for October babies. We made a pumpkin cake for them, last year.
I also like this Dollar Store fall decor from Dollar Store Mom.
It's simple and cheap and effective. I like that. I don't decorate around here much (except at ceiling level) because of the toddling terrors and their love of disassembling, but I like this.
Finally, this Chocolate Caramel Tart from My Baking Addiction looks delicious.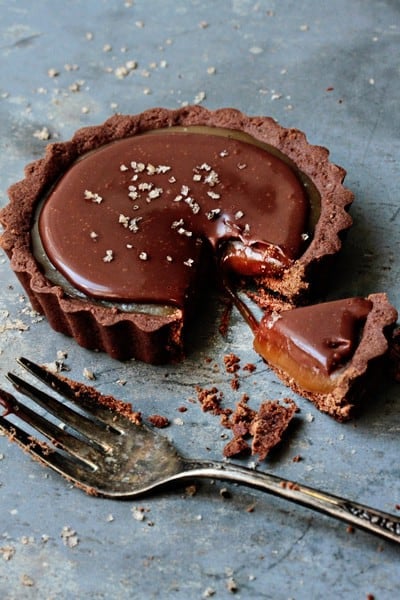 I mean, that looks reeeeally good. Mmm. Sigh. I don't know whether to be disappointed or relieved that I don't have all the ingredients for it, haha!
Ready to link up?
I'd love to see something interesting. It can be something you posted or something you ran across, but please link to the specific post instead of a website.
Feel free to link to as many as you like!
Have a recipe? A tutorial? A finished project? Philosophy on life? Anything? I'd love to see it.
Ads, links to shops, products, giveaways and spam will be deleted.
Don't forget to check out the other links and show everyone some love!