So Halloween approaches fast, and I've got to make costumes for my boys. I mentioned in my last post that Charlie is going to be Shaggy (bless that child for choosing possibly the easiest costume ever) but Max decided he wanted to be Thor (from the cartoons, not the movie). That kind of works, you know, because that costume is going to be as much work as TWO would be. Tommy and Teddy…I don't know. We haven't decided on costumes for them yet, although we did buy a pair of Jack-o-Lantern tees which will certainly do if necessary. Looking around online, I've noticed that there are like 25 girl costumes to each boys' costume. What's up with that?! Apparently there's not a thing that you can't just slap a tutu on and say, "Adorable Halloween Costume!"
I'm pretty sure Greg won't let me put them in tutus.
Anyway, add to that the fact that it will likely still be 85-90 degrees on Halloween and you can see my dilemma. What to choose, what to choose?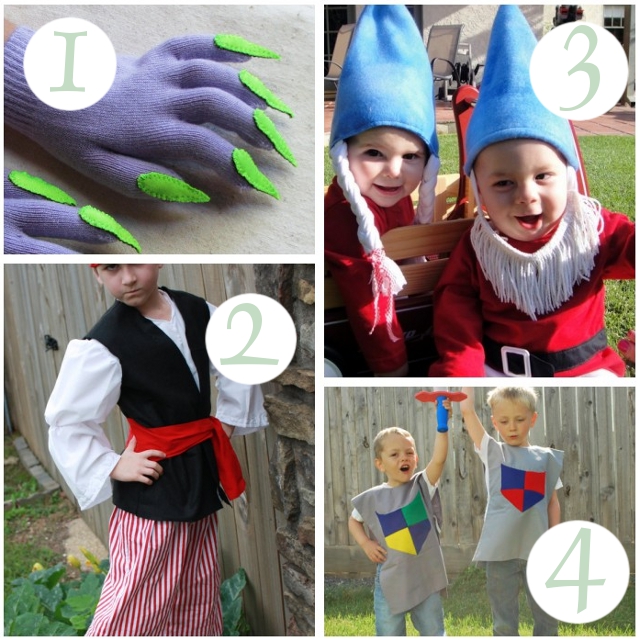 1. Purple and Green Gloves with Claws from Snippet Fairy 2. Pirate Costume from Messy Jessy Creations 3. Gnome Costume from The Radical Thread Co. 4. Knight's Costume from Kidtastic Creations
Okay, let's see. I love the idea of those gloves. How have I never thought of that before? Those little stretch knit gloves are super-cheap but with easy embellishments your kids could have claws or paws or robot hands. Love it.
The pirate costume would be pretty easy, as well. Bandana. White tee. Black vest cut from dollar store tee. Red sash. The stripey pants would be the hardest thing to find; I think they really make the outfit. Maybe you could find striped pajama pants.
Those gnomes are adorable… you'd just need a little felt hat and belt and a little yarn beard to go over a long sleeved shirt and plain pants. I'm pretty sure my guys would rip those off their faces, though.
For the knight you could totally cut arm and head holes in a pillowcase. Sew a little something on the front and add dollar store helmet, sword and shield: fast costume. (Again – I doubt that my two year olds would tote accessories around without protest.)
5. Max's Wolf Suit from The Radical Thread Co. 6. Peter Pan Costume from MainstreetX 7. Superhero Costumes from Birthday Adventures 8. Smurf Costume from LaLoo Designs
Max's wolf suit would be pretty easy if you could find all-in-one pajamas; just add a fur tail and a hood (with ears!) It would be a bit harder otherwise, and it would probably be too warm for here. Sigh.
Peter Pan, on the other hand…I'm not crazy, right? That would be easy. Oversized green tee cut to points on the sleeves and hem. Green pants cut off into points. Felt hat with a feather, felt belt. Simple!
A superhero costume would be good. Brightly colored solid tee and shirt, felt cape, felt mask, maybe felt wrist guards. I actually have some capes around here, hmm.
You can't see all of it in this picture, but that Smurf costume is pretty adorable. Although the Papa Smurf "model" beside him is frankly terrifying. It would be so very easy, too: long sleeved blue shirt, white sweat pants (with a little blue tail sewn to the back), white felt hat. Add some white sneakers or improvise some shoe covers (perhaps with leftover white felt?) and you're good to go.
Hmmm….a pair of toddlers dressed as Peter Pan and a pirate would be cute, right?