I know you want to make hand puppets. Don't we all? Isn't that what everyone does? No? Well, maybe you will when you see how easy it is!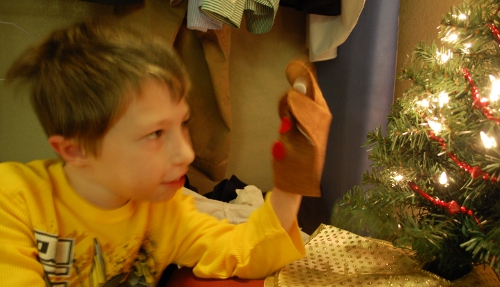 You Will Need:
Felt (Unless they're very small, you'll need two sheets for the body of each, but each sheet will leave you plenty of scraps to embellish another puppet)
Paper and Writing Utensil
Scissors
Needle and Thread
First, take the hand of the person who would like a puppet, spread the thumb and pinky finger away from each other (puppet position!) and trace around it. Make sure you leave about an inch all the way around, and make sure you extend the bottom of your puppet form at least two inches below the wrist. Your first tracing will likely be crooked and weird and asymmetrical. The goal here is to find the correct size for your puppet. Fold it in half lengthwise, straighten it up a bit, and match up the arms. Maybe add another quarter inch around for seam allowance if you think you need it. (It's important to make sure you have extra room because although hands are pretty flat, they're not completely two dimensional; you have to leave room for the hand as well as room for it to wiggle around within the puppet.) Cut out a new one, and now you have your pattern!
Yes. I am using a flattened diaper box as a worktable, a box of crayons as marking tools, and tiny travel scissors to cut things out. This situation has encouraged me to more creative use of my resources, if nothing else.
Next, trace the puppet pattern onto your felt and cut out two.
Decide how you want to embellish your puppet; it doesn't have to be fancy. Only a few little scraps transformed this little guy into a gingerbread man!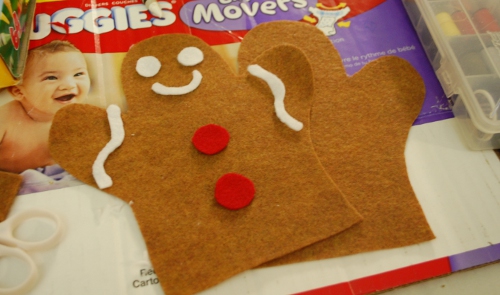 If you have embellishments that only go on one side, like faces and buttons, it's best to sew them on before you assemble your puppet. If you have pieces that go around your puppet, wait until you've sewn it together to put them on.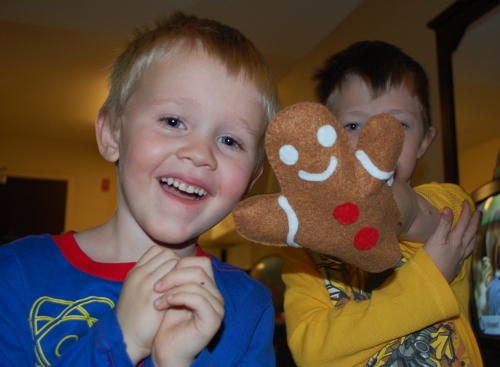 As you may be able to tell, I didn't use any fancy sewing techniques. I didn't even sew it together inside-out and then turn it right-side out. I just put the wrong sides together and did a simple running stitch around the outside. Since I was hand sewing, I did make sure to make my stitches very small to keep little fingers from finding and making holes in the edges. It works great.
After I made that gingerbread man for Max, I made Charlie a snowman. The scarf and the hat I made and attached after I sewed the two sides together. The project is fast and fun and easy and I still have a bunch of felt left over – red, white, brown, black and green.
What else could I make? Santa? A reindeer? What do you think? Any ideas?