Wow, I really did a lot of things over the weekend; this is going to be long (but illustrated)! First: pray for mercy from –
PUSS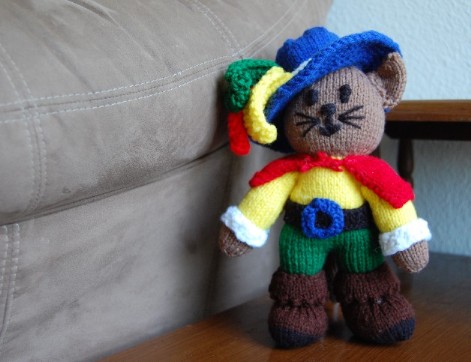 – in boots. 😀 I'm absolutely thrilled with the way that this came out. The directions were really specific – she even told you where and how to embroider the face, and how many stitches to leave between the eyes. I am even more impressed with the pattern than I was last week. At the same time, I can't foresee ever having the desire to make this particular pattern again, just because it was so much work. I think that's totally fine, though. Why would I need another one? If I ever want to do that much work again, I'll make a different toy.
Anyway, while I was slogging through the feathers (harder than they look) I decided to give my poor, tired fingers a break and work on Hedera. My goodness, what a change! The Gloss is a pleasure to work with under normal circumstances, and having just come from an unusually scratchy color of Red Heart worked at a gauge much tighter than Red Heart should ever be forced to go, the silk and merino was a delicious treat. I've finished the gusset decreases and am now knitting along through the foot. It's while doing this that I had an epiphany about so-called "TV knitting." I've heard some socks referred to before as perfect TV knitting, and I always thought that meant something so plain and boring that you could do it without looking at it. As it turns out, what it really means is 'something just complicated enough that you have to give it half your attention, but repetitive enough that it quickly ceases to be entertaining enough to keep all of it.' That's the real secret, and now I think I know what to do to get my socks done. Er, at least one of them.
I was distracted from Hedera, however, because I got a package from Knit Picks!
I got the Options set of interchangeable needles, Volume Two of the Vogue Knitting Stitchionary (it's cables!), and a set of wooden cable needles. I haven't cabled anything in a long while; I'd say it's about time, wouldn't you? Unfortunately I don't have anything cabled slated to begin in the near future, but with me, you never know! Especially since I am now all set to knit cables in any size I like…
This weekend also represented a blogging first: I was recognized. At church on Sunday I was chasing Charlie through the halls (as per usual) when I got stopped by a friendly looking woman carrying a squirming toddler of her own.
"Is your name Melissa?" she asked.
"Uh, yes," I answered. (This is not really unusual at church, since I spend most of my time in the hall. I think that if you asked half of the women if they knew who Melissa Mall was, they would say, "Who?" and the other half would say, "You know, that quiet young woman who spends all of Sunday school chasing her baby through the halls." To which they would reply, "Oh. Wait, which one?" It's like the park out there.)
"I read your blog!" she said, erupting into a big grin. "I just left you a comment the other day, about the BDU pants?" It was none other than regular commenter Gabbi! (Sorry, I know you have a blog, but I can't find the link to it. If you want me to put it in here, just send it to me!)
She was really nice, and we had fun chatting for a while before we each got dragged off by our respective child. It was a strange experience: I met someone for the first time that I already 'knew' (at least a little). That's one of the greatest possibilities of the internet. I'm hoping that Ravelry will open up before we move to Japan, because once it's open to everyone there will be a lot of people on there, and maybe I can make some new fiber-friends before we even get there!
Speaking of Ravelry…another thing that it's good for is reminding you of the projects you've already started. Every time I went to my projects page, there it was – staring at me balefully, the incomplete, multi-colored acrylic monstrosity that haunts me. Yes, I am referring to the Infernal Sheepghan. I don't like it (to put it mildly). I'm pleased with the result I'm getting, but the process is so fraught with difficulty, and errors, and snarls of five or so different strands of yarn that I never, ever, want to try it again.
Last night I pulled it out of the box where I stuffed it a few weeks ago to assess the damages. After unsnarling my yarn, I ripped out three rows of work, unsnarled the resulting kinky mess, and took it downstairs to be worked on. With excruciatingly close attention to where the color changes go, progress is being made –
but that doesn't mean I enjoy it. I committed to make these baby afghans, I'm shamefully behind, and now I'm just trying to finish the darn thing so I can whip out something easier.