I's amazing how quickly we forget that it's winter here – but in many other parts of the country, you're still dealing with snow and ice! We're all a little wistful over it… I do love having all four seasons. At any rate, I went Etsy diving to find things that creatively referenced winter.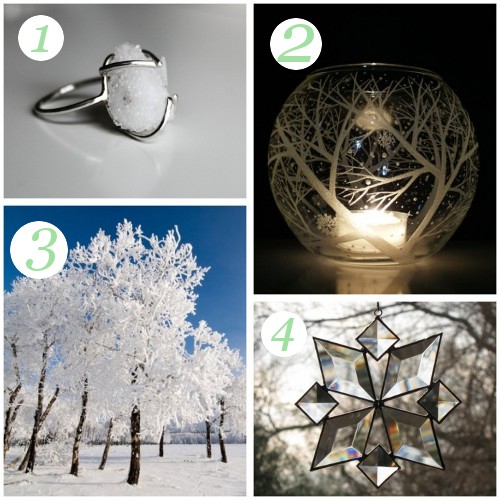 1. Snow quartz crystal and silver ring by andrea0503 2. Engraved glass globe candle holder by daydreemdesigns 3. Father frost print by photographybymoni 4. Snowflake beveled glass suncatcher by fleetingstillness
What do you think about that ring?! It's a quartz crystal formation, but I think it looks exactly like a tiny snowball placed in a silver setting. Beautiful!
5. Frosty snowflake necklace by DorotaJewelry 6. Snowflake ornament patterns by susanlinnstudio 7. Birch trees silk screened ties by toybreaker 8. Sugar maple necklace by DorotaJewelry
Apparently that is a real leaf that's been treated and plated to preserve the delicate natural veining. How cool is that?
To be honest, I was hoping to find something a little more like this craft project from Living with Lindsay:
because it looks so very much like snow drifts! I wonder if I could do that to some vinyl and stick it on my windows to make it feel like it's snowy outside?