…and children, too! Yes, that's right, today Max, Charlie and I made the trek to Kid 'n Ewe, marking my very first fiber festival! I think the expressions on the boys' faces really says it all about their attitude towards this particular event.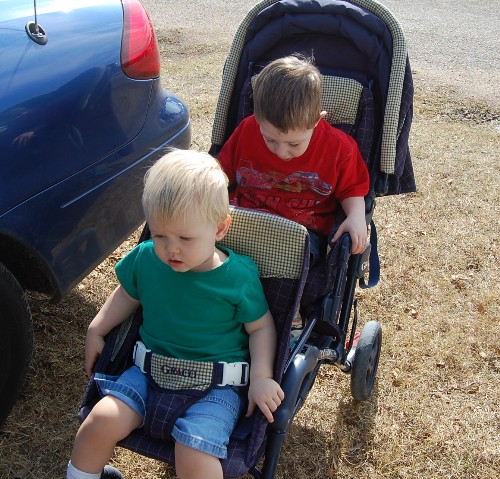 Awww. They were kind of excited. Mostly to get out of the car. We got lost in Boerne and spent an extra thirty minutes trying to find the fairgrounds. So we moved them from their carseats into the portable two-person baby prison and they felt a little better. Once we got inside, I think I must have lost my head, because I only have one more photo from the entire thing:
Yup. Those are alpaca 'tocks. We got to pet alpaca! (They were soft.) Max kept trying to pat them on the bum, the one place the woman leading them said would get you kicked in the face. Yup. It was quite the experience, though – we went into the first building after staying a while to listen to the musicians playing the dulcimer out front. The whole place was full of yarn, and fiber, and books and needles and patterns and beads – the whole building smelled like sheep. There were probably 15 women at the back of the building, spinning (they were having a class). Max was fascinated by the wheels, even more so when I told him they were making yarn.
We went from there into the next building, stopping briefly to ogle the angora bunnies outside. In there we found Melanie at the Yarnivore booth and chatted for a while. They gave Max and Charlie each a chunk of unspun angora to pet – apparently at a fiber festival they hand out chunks of fiber like tootsie rolls (at least to little children). In the next booth over a very nice old man handed them each a chunk of wool about a foot long to play with while he gave me tips about how to get started with a drop spindle. I think I'm going to make one and mess around with it. I saved the fiber from my boys when they got bored with it, I thought I'd start on that.
Also in the second building was Amanda! She had a little box full of Ravelry nametags for any Ravelers who came by – and boy, there were a lot of us! It seemed like everywhere you turned you saw a little green and white tag, or a beta tee. It was fun to meet some people I'd only seen online, and it was cool to meet some new people too. We picked up something else at Amanda's booth, too –
a set of size 5 Chiaogoo bamboo needles, perfect for some nice, thick socks. In the third building (the alpaca building, apparently) the free sampleage for the kiddos continued. The nice woman at the Tierra Prometida booth (that means 'promised land,' incidentally – and I figured that out before I went to their site. Woohoo for high school Spanish!) had a rack of little knitted finger puppets that were just adorable and gave the boys each one. Check it out:
She picked two that were the same (she obviously has children). I think it's cute that one of them is smaller than the other one – big brother, little brother.
I have an urge to make up a third one, and a troll, so we can act out the 3 Billy Goats Gruff. It was here that I picked up a 4oz skein of undyed alpaca with unknown yardage. Pretty!
And the boys had had just about enough and started to howl. We headed back out of the building, but I stopped to pick up a back issue of Interweave Knits –
The top on the cover has really grown on me, and I'd just decided to be on the lookout for it yesterday. And there it was! That's really only important because it spurred me to stop by the Brooks Farm booth again. We'd spent a good chunk of time there earlier, but I'd left empty-handed because I couldn't convince myself that I knew what I would do with anything I bought there. With pattern in hand, though, I picked up three skeins of the green Acero I'd been sighing over.
Crazy pretty. I really hope that I worked it out carefully enough to be able to use it for this pattern, but it's entirely possible that I'm deluding myself with the strength of my love for this yarn…
So. Um. No yarn shopping for a while.