I haven't done much crafting for…oh…almost two weeks? I don't really count the sponges, it takes less time to make one of those than is does to properly leaf through the Knit Picks catalog I got in the mail the other day. I think it started as that 'between active projects' lull – you know,  I finished the first Hedera, I made Max those socks, I finished that airplane. I tried to work on something else, but I've lost my hook for the church baby afghan, I can't find anything to do yet with the Misti Alpaca that I like, Greg's scarf is waiting for an untangle…and so I turned to other things that needed doing.
Now I'm sort of trying to see how much of that 'other stuff' I can get done before I can't take it any more and start making coasters again just to make something. I don't know that it makes for the most fascinating blogging, but look! I've released the Shooting Starf,  I've redone, written up, and released the Mini Stuffed Airplane. My Crochet Marketplace was disheveled for several hours yesterday as I switched it over to a sleeker, cleaner new look. Seriously, go look, I'm so proud.
Unfortunately for you, this doesn't necessarily make for interesting blogging.  If I spent hours with a hook in my hand, I'd have something to show for it – when I spend several hours coding and uploading, you go over there and say, 'Yeah, that looks nice. Was it different?' Ah, well. Here, let me distract you with a picture that could be captioned, "Childhood is…"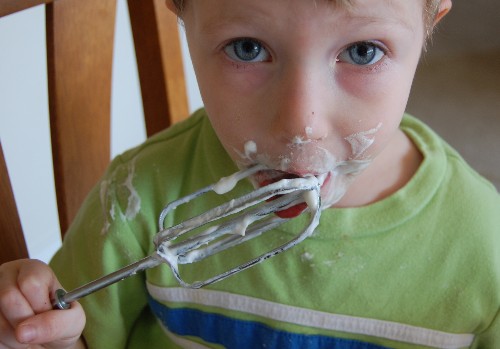 Have a great weekend.